Elon Musk has finally bought Twitter. Mr. Musk said, "I will drive out the spambots," and I just hope that the suspicious spam DMs and annoying rips will be reduced.
Also, regarding Google, although there are fluctuations as last month, we have not officially announced an update ...
Is there any movement before and after Golden Week? It's attention.
What is written on this page
Widespread use of language comprehension processing "MUM"
In May of last year, we announced the existence of "MUM" as a new language processing technology.
▼ Introduced in past articles.
[July 2021 latest version] June SEO trends and news summary
At that time, it was also applied to search results to improve the accuracy of information about the new coronavirus vaccine.
This time, "improve the accuracy of detecting life-threatening queries".
It is also introduced in Kenichi Suzuki's blog,
For example, if you search for "easy suicide",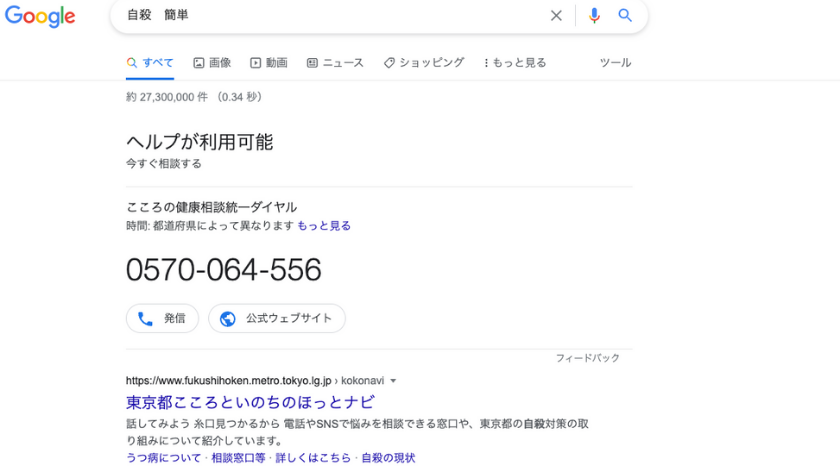 It is displayed as.
Queries often don't reflect that situation when you're feeling sick, such as domestic violence or suicide.
From such search queries, it seems that MUM is used to clearly detect hard-to-read search intent.
MUM is also used to eliminate spam
Due to its language processing technology, MUM currently supports 75 different languages.
The great thing about MUM is that if you study in one of the languages, you can apply it to other languages.
You don't have to learn the same concept for each language.
It is also excellent in that it is less dependent on language, and it will be useful for suppressing spam in Google search all over the world in the future.
External links are the most reliable way to discover new sites! !!
Have you ever wondered, "What's the best way to get Google to index new content when you launch a new site?"
Do you want to send the site map from the search console? Would you like to send an index request?
None of them are wrong, and I think they are correct, but the good news is that they are worried.
Held in late MarchSEO Office Hours John Mueller replied.
SEO Office Hours
There's nothing wrong with requesting indexing, but if it's a new site with no signal or information, there's no guarantee that Google will get it, at least if it's a clue to telling the URL.

Ask an acquaintance to link to that person's site.
John knew the questioner, so it seems to have some joke elements. However, external links seem to be more useful than requests to get Google to discover new sites.
By the way, it seems that one week to one and a half weeks is a reasonable time for the search console to support external links.
Awareness of SDGs by utilizing Google Business Profile
Google goes to the Google Business Profile sectionCorrespondence to recyclingAdded.
As a background, recycling activities by local communities lead to SDGs activities around the world. On top of that, in the past, even if you wanted to recycle, there were few stores and companies that clearly stated "where and what can be recycled?", And it was unclear.
Although it is limited to specific companies, with this update, it is now possible to register the status of recycling support.
The settings can be made as follows.
battery
Plastic bag
PET bottles
Clothing
Cans
light bulb
Electronics
Bottles
By setting it, it seems to be displayed in search and Google map.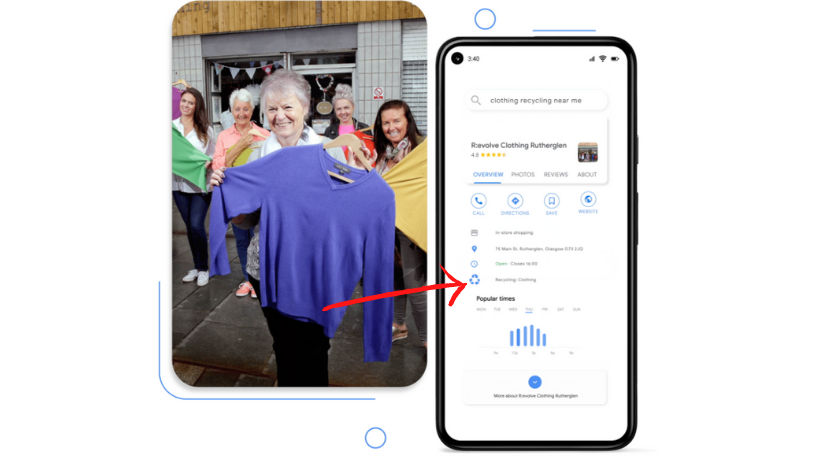 I think that users will need the meaning and recognition of this mark in the future, but even if there is no case to use the store
It will also be a sign of your intention as a company, so it may improve your impression.
AI-created content and the future of SEO
AI technology in recent years has been dizzying and can sometimes perform better than humans in summarizing.
It's difficult to draw a line that says "practical", but I've used such text generation tools as well. The impression was, "Well, it might be a good feeling."
In particular, some operators such as media sites, which have a large number of articles, have already introduced AI content and are doing well. I have heard that.
However, Google violates the guidelines when using automatically generated content for ranking operations.
How are AI's automatically generated texts handled?
John Mueller says:
For us, articles written by AI are also essentially in the category of auto-generated content. People try to automatically generate content by various means, but even if they use AI tools to create content, they can change the order of words, replace them with synonyms, and translate them, as was done in the past. If you're doing something like that, it's essentially the same and violates the guidelines.

AI may have better content quality than older tools, but it's still auto-generated content and violates webmaster guidelines. Would consider it spam.
... apparently ...
So how do you judge it as AI content?
In the first place, we also find it difficult to distinguish between what was written by humans and what was written by AI.
Can Google's algorithms make such a decision?
I can't say that it can be identified. However, the web spam team can definitely take action if there are traces of what seems to be auto-generated.
Says John Mueller. even if you say so. It seems to be quite difficult in reality.
I don't think auto-generated content is necessarily used for bad purposes. Depending on the situation, there may be a shortage of personnel or you may be overwhelmed by the generation of content.
Isn't there any problem if the content is excellent?
Danny Sullivan saidPublic LiaisonAs a (public liaison), it acts as a bridge between Google search and users.
Mr. Sullivan said:
More sophisticated writing tools that can suggest most of the text shouldn't spoil the ranking if it's used purely to help web viewers.

If the main purpose of the content is for the user, it wouldn't violate our guidelines. Ideally, even if the article is generated by AI, the best and most useful content should be included in the search results.
As you said, texts such as automatic generation and content that feels strange are the worst for users. But if it's easier to understand and more concise than ever before, it's definitely more useful than human-made content.
If the content is really useful to the user, there is no need to ask the production flow.
[April 25] Malicious emails generated by AI content!
Earlier, I talked about advocating AI content painting, but the latest SEO news was a bad example. * The person who received the junk e-mail and investigated it is called the "victim".
Famous in the SEO media areaBarry Schwartz's articleHowever, the content is
It seems that a fraudulent email was sent from a lawyer saying "legal request for DMCA application".
The content of the email is
"Our clients are happy that their images are used and shared on the internet, but proper image credits are due to past or current use." , You need to "link" to the site within "7 days". "Otherwise, legal action must be taken," the email continues.

https://searchengineland.com/beware-of-fake-dmca-link-requests-by-ai-generated-lawyers-383811
... apparently ... Roughly speaking, "The image you are using without permission, I am. I am happy to have the image used without permission, but please link to a specific page as a condition to use it without permission. I will take legal action. "
It is the contents such as.
Since the license of images on the Web is a severe story, general companies will often use free festivals and paid materials with clear sources.
Also, the content itself is in a hurry for a moment, but it is an unnatural threatening email with common content. (I do not receive an email from a lawyer suddenly when applying for a DMCA. Basically, Google should contact the person who is committing the infringement. I am sorry for the information posted because I have never committed an infringement.)
It's scary from here, and after digging into the content, it turns out that an email was sent from Arthur Davidson Law Office. Also, although the domain name was registered this year, it seems to claim that the site has been around for years.
Victims also delve into the profile of the person who allegedly sent the email, Nicole Palmer.
She (Nicole Palmer) was a non-existent person. All the portrait images posted on the site were generated by AI by deep learning. See image below.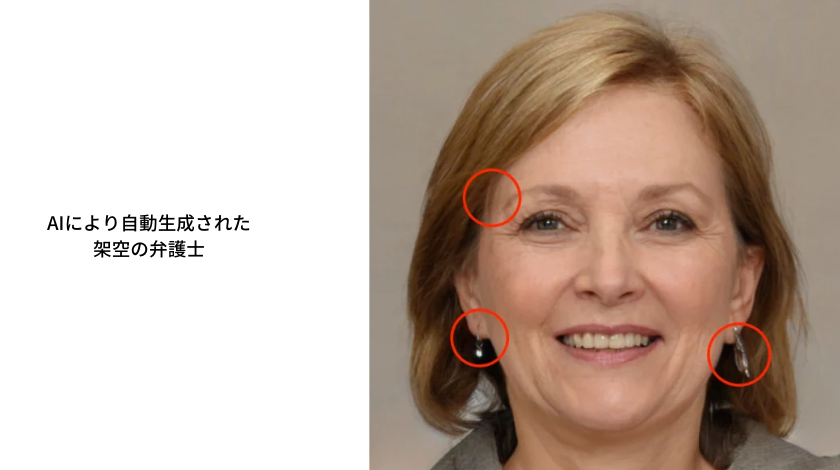 If you look closely,
The positions of the left and right ears are different
Earrings are asymmetrical
The shape of the eyebrows is also asymmetrical
In detail, the hairstyle is also asymmetrical.
It makes me feel uncomfortable.
To be honest, the shape and position of the ears vary from person to person, and there are many cases where accessories are disjointed, make-up habits, and asymmetrical hairstyles.
The scary thing is that the error is at an unbelievable level.
Malicious players are using very wild and sophisticated strategies, aren't they? That's horrible. As a result of the victim's very persevering digging, I could understand that this was a fictitious lawyer generated by AI.
Also, if it is a free material, it may be possible to determine the identification of a person by image search. This time, it is an original image generated by AI that is unique. I don't know unless I analyze it very much ...
In the article, Barry concludes, "Beware of suspicious and unnatural emails. Online spam is of higher quality and quality due to the development of AI. All the electronic you see. We need to question the content and refine the way we hold it. "
It's close to digital literacy, but it's important to always ask questions. Also, the eye-catching points must be updated according to the times.
The concept of the YMYL algorithm exists
For example, sites in the YMYL genre may use stricter algorithms to rank crawl indexes, as described in the guidelines for search quality evaluators.

https://www.youtube.com/watch?v=lMc456P2fLs&feature=emb_logo
John Mueller was speaking at the annual Google Office Hours.
As for the topical EAT, there is no such thing as an "EAT algorithm" or "EAT score". However, it is said that the "degree of feeling that EAT is high" is evaluated using multiple algorithms.
in short,
・ There are algorithms that are not used except for the YMYL system.
・ Strict evaluation criteria than queries other than YMYL
Can be interpreted as.
It's a genre that is easily influenced by domain power, so I feel that content alone can't help. If you're thinking about trends such as missing content and structured data, you might see something.
Most recentWeb carrierBut it is taken up.
summary
While the wave of the AI era is coming, it seems that there are many cases where it is being used in worse ways than you think.
Even the ability to "doubt" needs to be improved.
I hope this article will be of some help to you.
If you have any questions after reading the article, feel free to Twitter (@kaznak_com) Etc., please ask.
see you.