Do you have an order for site renewal or "I want to recreate it because I want to be aware of SEO again!"?
Or, the movement of "Let's focus on SEO" becomes active in-house, and when taking action, I wonder if it is within the range that can be dealt with by site renewal or if I should start by recreating the site again. There will be times.
What is written on this page
Patterns that can be renewed
Basically, if the site is created with WordPress, I feel that there is no need to blindly recreate it.
The advantage of a CMS platform like WordPress is that you can update themes without having to overhaul the site itself.
for example,
Improved mobile usability
Image optimization
Changes to the extent that branding elements are updated
Increased site speed
If you want to deal with such issues, it will be enough to proceed with the current site.
Let's repeat small updates and proceed with the renewal.
Patterns that should actually be recreated
So what happens when you need to recreate your site from scratch?
for example,
In order to renew the brand, I want a different image and exterior.
I have multiple sites and want to integrate all the content and the site itself
Existing websites are built on a fairly old system and are difficult to update
I want to change to a larger site than the current site (from blog-centered sites and Wix to WordPress)
In such a situation, I think that you should positively consider recreating the site.
This time, we will proceed with the rest of the story by rebuilding the site.
Information needed to rebuild the site
There is some information you should collect and think about when rebuilding your site.
Website performance status
As long as the site is rebuilt, it is essential to know the current situation, what is wrong, and check the conductors.
Site bounce rate (It's not bad because it's generally high. Check it according to the purpose of the page.)
Time spent on the site (Longer stays can be easier to use or more content-rich and attractive)
Number of conversions (I think SEO personnel check it every day, but let's add it up again)
Number of repeaters (Because there is useful content, it should repeat)
Pageviews (It's important to know the most popular pages)
Let's aggregate and check.
All of these can be aggregated with Google Analytics.
Also, as a tool that goes one step furtherahrefsor,SEMRUSHIt is also recommended to use. It will be an indispensable tool for analyzing keywords and competing sites, which will be discussed in the next section.
Content planning
This is an important part of rethinking the contents of the site.
Creating a site map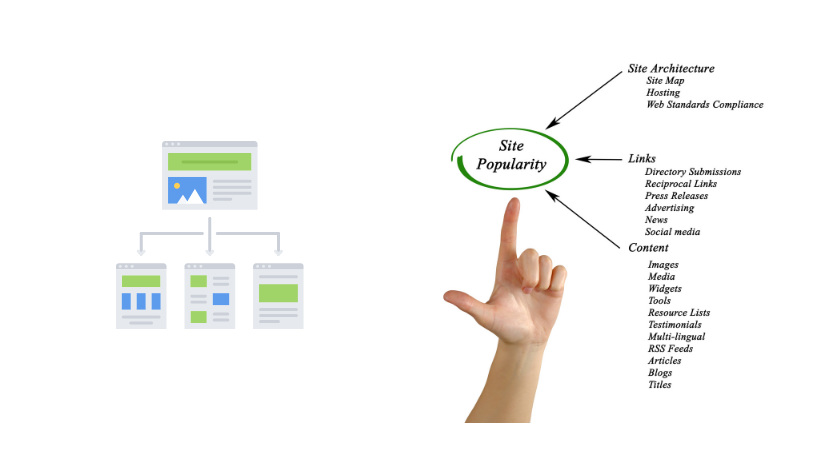 Make it meaningful to your target audience, not just a sitemap for new site design that incorporates the keywords you want to target.
It's a simple flow to make a site map,
Identify the pages you need
Group by page
Organize in a tree
Objectively take a bird's eye view of the whole picture.
The final bird's-eye view process is relatively important, and are there any pages that are missing again, or are there any elements that seem unnecessary when viewed as a whole? We will continue to refine it.
Let's make good use of Excel and PowerPoint.
Content preparation
It is important to put together a list of the content required when launching the site and what kind of content will be created from the start of operation to about half a year later.
Identify the necessary content in advance, and be prepared so that it will not become messy when you start a new operation.
Also, rethink the role that content plays.
I want to solve the problems of the visiting users.
I want to achieve the purpose of the operator (I want to increase sales, increase name recognition, etc. as I rank higher)
Also, the purpose of the user should not be neglected.
I want to solve my worries and doubts
If it is a sales site, there is a product you are looking for
Such.
When designing content, keep in mind that you can achieve the goals of both the operator and the user.
Technical SEO elements
I want to be aware of the technical SEO elements while suppressing the basic parts.
Use structured data
I've touched on structured data a bit in past articles, so please take a look.
Structured breadcrumb trail data-vocabulary.org schema deprecated How to improve errors | Cocorograph Inc.
It seems that many emails have arrived from the Google Search Console with the title "A new problem with the" breadcrumb trail "has been detected." This time I would like to explain this correspondence. The cause lies in the structured data ...
Structured data is useful not only in the pack list but also in SERP (search result display page).
▼ See Google Search Central
Markup with Structured Data FAQ | Google Search Central | Documentation | Google Developers
FAQ structured data makes it easier for users to find information in rich results. See FAQ schema markup and samples.
Recently, it is common to incorporate "Frequently Asked Questions" into structured data.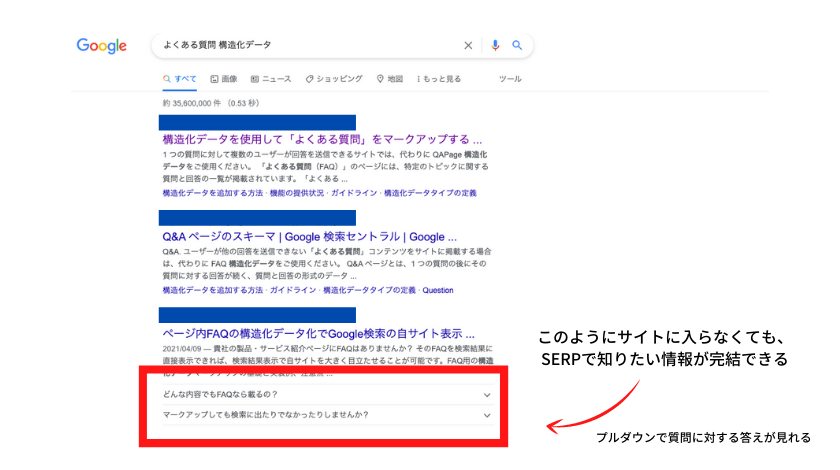 If used well, it will improve usability.
Be aware of Core Web Vitas
It's a Google indicator of display speed.
Many techniques are required, such as image formatting, source code inlining, and lazy loading. Large existing sites require a lot of resources to handle.
If you can design your site consciously from the beginning, daily updates will be a little easier.
This article explains one of the countermeasures. Please take a look.
What are Core Web Vitals? Exclusion of resources that hinder rendering | Cocorograph Inc.
Core Web Vitals is a concept that has become widespread these days and is an indicator that has a significant impact on the page experience, especially when loading pages.
Use of appropriate meta tags
Make sure you have set a lot of tags properly, such as page title tags, description tags, heading tags, and alt attributes.
The use of proper tags also improves crawlerability.
XML site map
Use the appropriate XML sitemap.
An XML sitemap is a file that lists important pages on your website, allowing Google to find and crawl them all. It also helps search engines understand the structure of your website.
In addition, please be careful not to describe the page with the noindex tag on the site map, or not to describe the redirected URL (state the redirected URL).
Proper handling of 301 redirects
Use 301 redirects appropriately when redirecting content from your old site to your new site.
When maintaining the site after consulting with customers, there are many cases where the temporary transfer "302 redirect" is used. Google's view is that 302 redirects will automatically be treated the same as 301 redirects for a long period of time, but try to use the appropriate redirect method when you realize it.
Please note that if you forget the redirect setting itself such as new site establishment or renewal like this time, a 404 error will occur and usability will be impaired.
summary
When it comes to renewing a site, people tend to be conscious of the appearance such as design, but don't forget to design content with SEO in mind.
To put it badly, once the design is solidified to some extent, it will not change significantly after operation.
However, SEO needs to be conscious in the long run, both before and after. Even when the operation starts, it is always necessary to make small corrections and hypothesis verification.
I hope this article will be of some help to you.
If you have any questions after reading the article, feel free to Twitter (@kaznak_com) Etc., please ask.
see you.