On March 16, 2022, Google official announcement announced that Google Analytics will end measurement on July 1, 2023.
In other words, roughly speaking, it feels like "GA will be completed by July 2023, so please move to GA4."
This announcement was big news for SEO personnel.
This is because I and I are too accustomed to the old GA (Universal Analytics), and GA4 has a strong impression that it is difficult to operate (prejudice).
Let's take a look at it step by step.
What is written on this page
Official announcement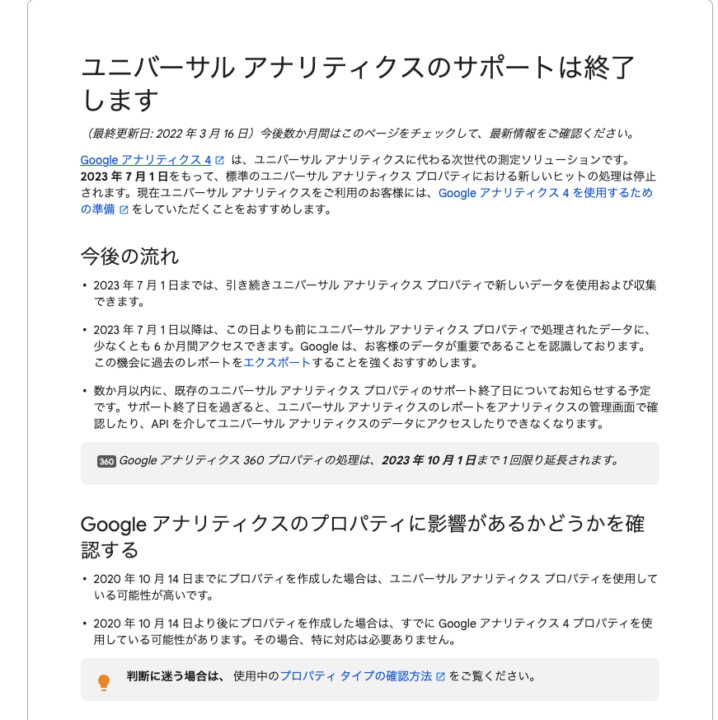 Analytics helpAccording to
Google Analytics 4 Is a next-generation measurement solution that replaces universal analytics.July 1, 2023Will stop processing new hits in the standard Universal Analytics properties. For customers who are currently using Universal Analytics,Preparing to use Google Analytics 4We recommend that you do.
... apparently ...
Summary,
Universal Analytics data can be used and collected until July 1, 2023.
After July 1, 2023, new data will not be collected, but previously collected data will be accessible for at least 6 months. During this time, Google recommends exporting and saving the data.
The full end date of support is undecided, but after the end of support, it will not be possible to check Google Analytics reports on the management screen or access data via API.
The paid version of Google Analytics 360 will be extended until October 1, 2023.
It looks like that.
What are the opinions of experts?
For SEO staff and analysts, "Mr. Analytics" and "Mr. Web Analyst"Taku OgawaI'm curious about his opinion. It is no exaggeration to say that he is a leading web analyst in GA / GA4.
▼ The article was posted immediately.
Announcement and impression that GA (Universal Analytics) will end measurement on July 1, 2023
(Hereafter, quoted from Mr. Taku Ogawa's comment)
When the deadline is decided and the corporate site has to move to GA4, the amount of business and information around it will surely increase.

A lot of seminars and books will come out from now on, and production companies, advertising agencies, consulting companies, etc. are likely to be busy.

However, personally, I strongly feel that GA4 is an unfinished tool every day and I use it. Difficulty in use, unclear specifications and sudden changes in specifications that cannot be explained by unfamiliarity are currently underway. I think it would have been nice to announce the end date after it became a little more stable.

Even if the data can be acquired on the surface, how is the data acquired and how does it appear as a numerical value in the report and search function? Information will continue to be complicated in this area, and it is easy to imagine that it will still change.

When collecting information, we recommend that you check the latest information as much as possible. I myself have said that some of the information I have sent so far has changed specifications or cannot be used, and I said that I cannot do it, but the number of things I can do is increasing. It is difficult for even an expert to catch up.

Therefore, I think that we will leave the detailed specifications etc. to experts, agents, in-house analysts, etc., and start from the point where we can introduce GA4 and operate the screen.
is what they said.
After all, it seems that changes and improvements in specifications are still being made in an ongoing manner, so is it best to get used to handling while following the information and actually operating it?
* Biography of Mr. Taku Ogawa
After working as a web analyst at Recruit, CyberAgent, Amazon Japan, etc., became independent. Engaged in enlightenment and penetration of web analytics through outside directors of multiple companies and visiting professors at graduate schools.HAPPY ANALYTICS Co., Ltd.CEO.
What is the best thing to do?
That said, there is no choice but to say, "Even if you suddenly change to GA4, it is difficult to see and handle the indicators ... What should I do?"
Since the conventional universal analytics can still be used, while using it as it is, "GA4 will be introduced at the same timeI feel that is the best.
We still have the data we need and the data we still need to collect. GA4 can be set in parallel, so it is best to learn and touch how to use GA4 in the gap.
How to use universal analytics and also use GA4
1. Once in Universal Analytics, click "Manage" at the bottom left
2. When you enter the management screen, go to "GA4 Setting Assistant" from the property in the middle.
3. Click "Introduction" in the "Create a new Google Analytics 4 property" section.
4. Click Create Property to complete the setting.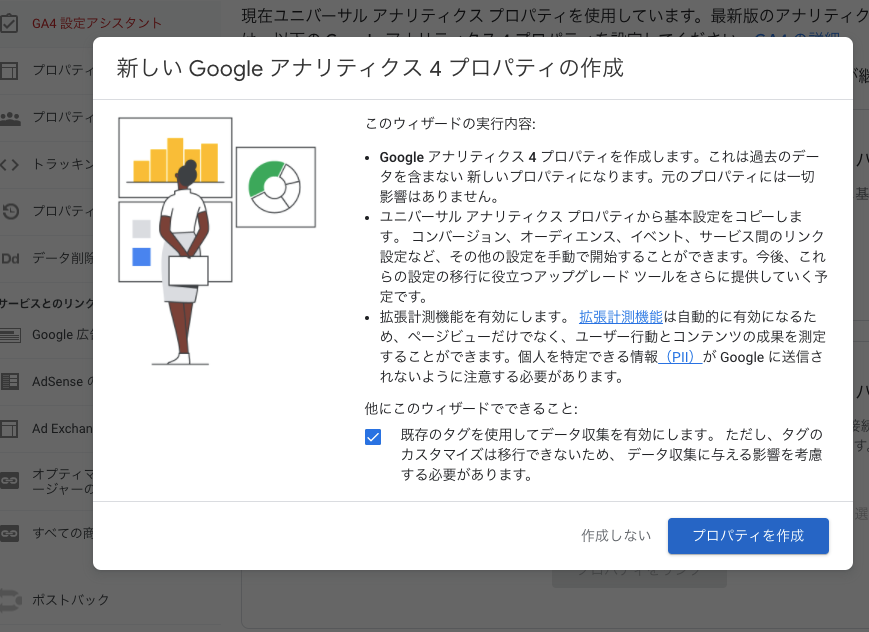 After creating the property, like universal analytics, it can not be measured unless the global site tag (gtag.js) is implemented...
Don't forget to implement it.
Difference between old GA and GA4
Here, I will briefly explain the difference between universal analytics and GA4.
Differences in data measurement
The big difference between universal analytics and GA4 is the difference in data measurement.
Until now, the data received by hits was treated as session-based, but now it is treated as an "event" when it comes to GA4.
It may be easier to understand that universal analytics and GA4 are no longer considered to be fundamentally different.
Difference in measurement definition
Indicators such as "withdrawal rate and bounce rate" and "landing page" that are familiar in universal analytics are abolished in GA4. (Even if it is abolished, it is possible to search for similar indicators depending on how the data is imported.)
There are also changes in the session, and in Universal Analytics, when the inflow source changed or when the date was crossed, it was treated as a new session / another session, but when it comes to GA4, it will not be a new session / another session, etc. ..
Cooperation with BigQuery
By default in GA4BigQueryBecause it is linked with, it will be possible to analyze raw data (raw data) before it is shaped by analytics, and the range of analysis will be greatly expanded.
Previously, only the paid version of 360 was able to work with BigQuery to write SQL and retrieve data.
Please refer to the official article below as you need to be careful about the fee structure.
If you start writing the details of how to use GA4, it will be ridiculously long. I will write an article about how to handle data and how to measure it at a later date.
For those who have difficulty using Google Analytics in the first place and cannot connect to improvement measures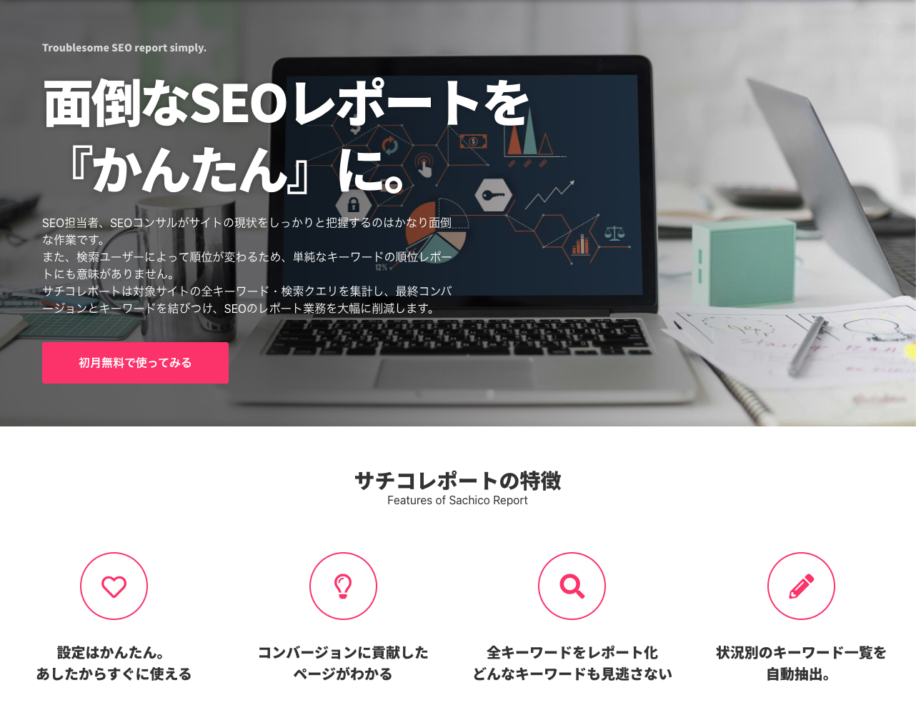 Before the introduction of GA4, some people may feel that "analytics is difficult in the first place and it is difficult to understand how to read the indicators". "I can understand the search console, but I don't know how to combine it with analytics ..."
We recommend our report tool, Sachiko Report, to such people.
Understand the issues at a glance
Access analysis such as Google Analytics and data from the search console are usually used to extract SEO issues, but it is necessary to acquire each data and connect the data for analysis. It takes a lot of time and effort.
Sachiko Report automatically derives pages and keywords to be improved by combining Google Analytics conversion data with search console ranking and keyword data.
Automatic integration of analytics and search console data
Sachiko Report collectively acquires the data of Google Analytics and the search query report of the search console, and integrates and analyzes it.
Only the Google account linkage work is supported.
All you have to do is wait for the report data to be created automatically.
Anyone can easily get started.
Data can be edited in Excel
If you want to download daily data from the search console, you have to divide a lot of data and download it, which is troublesome.
Sachiko Report is a download of all integrated data of Search Console and Analytics in CSV format.
Since it can be easily processed while narrowing down, sorting, and deleting unnecessary data using Excel or Google Spreadsheets, you can freely use it for your own research and analysis, and for extracting only the necessary data.
summary
The fact is that GA4 has much to learn and information is not available to that extent. I think that the number of courses and information for GA4 will increase at a stretch from now on, so it is important to get used to handling GA4 first while always following the information.
Also, for those who want to study with GA4 main, just register the Sachiko Report and a monthly report will be created. I think that we can reduce the resources for daily work using universal analytics as much as possible, so I would like many people to utilize it.
I hope this article will be of some help to you.
If you have any questions after reading the article, feel free to Twitter (@kaznak_com) Etc., please ask.
see you.