Google provides publishers with tips for analyzing traffic loss in organic search.
▼ This is an article written by Daniel Waisberg at Google Search Central.
https://developers.google.com/search/blog/2021/07/search-traffic-drops
What is written on this page
Main examples of traffic reduction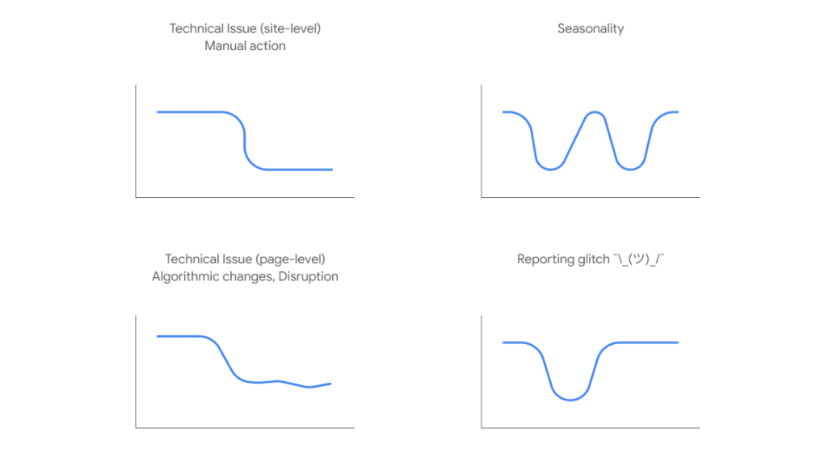 To help you understand what's affecting your traffic, I've sketched some examples of drops and what they could potentially mean. Read below for more information on each example.

https://developers.google.com/search/blog/2021/07/search-traffic-drops
I will explain from the upper left.
Technical issues
What you can read from such a graph is that there are errors that can prevent Google from crawling, indexing, or serving your pages.
For example, server availability, robots.txt fetch, page not found (404 error), and so on.
The problem could be the entire site (for example, the website is down) or the entire page (for example, the misplaced noindex tag, which Google relies on crawling the page, that is, slow traffic). Let's be careful.
Security issues
Although not shown in the graph in the figure, suppose your site is affected by security.
For example, you may see a warning page before you visit the site.
Check for possible user exits and traffic reductions.
Manual Actions (possible problems with manual operations)
This is the same upper left graph as before.
If your site does not comply with Google's guidelines, manual intervention may omit part of the page or the entire site from Google's search results.
Algorithmic changes
Just recently, there was an algorithm update.
There is no clear answer, but Google is constantly improving the way it is rated. Fluctuations due to the algorithm are always a festive event.
Not limited to core updates, small updates are constantly being deployed. It's likely that you're affected, so keep an eye out for Google updates.
Search interest disruption
The same search query often has different meanings and demands depending on the season and trends.
In such a situation, if you do not respond appropriately at the right time, the traffic may decrease as a result.
Please note that many queries are seasonal.
Analyze how search traffic falls
Google Search Central has a video on how to use the Search Console performance reports.
It's all in English, so I think it's hard to get along with, but I think there is information that can be obtained at key points.
Use Google Trends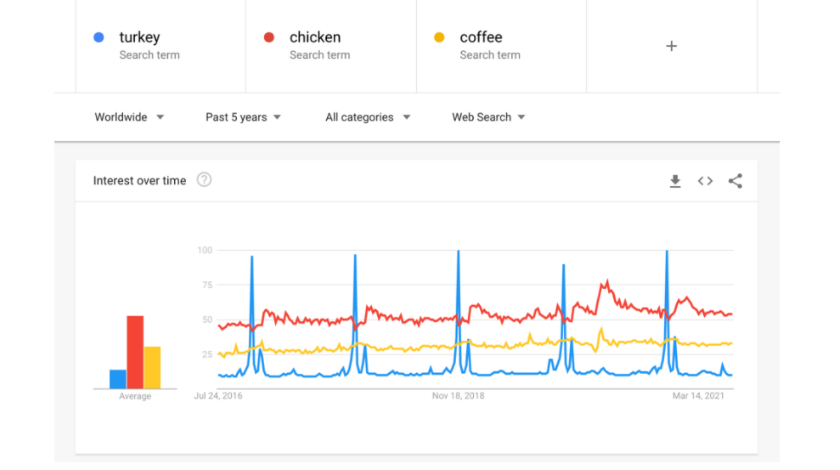 Use Google Trends to check for queries that are driving traffic to your site.
Let's take the Search Central example to see if there has been a clear decline over the course of the year.
"Turkey" is probably influenced by "Thanksgiving Day," which is also an American holiday. It is a festival day called Thanksgiving, which is held in November and eats turkey. Everyone eats "turkey", so it's growing tremendously in November.
There is no big change in "chicken".
"Coffee" seems to be in great demand throughout the year.
summary
It became a flow to review the work that is usually done in SEO.
First, check for internal errors on a regular basis to see if there are any factors that are triggering traffic reduction. Then, check the trend of the query and changes in the market and review the company's content.
I think it's a little difficult to decide everything with the pattern of the graph. However, there must be some big problem when there is an extreme movement, so be sure to check.
I hope this article will be of some help to you.
If you have any questions after reading the article, feel free to Twitter (@kaznak_com) Etc., please ask.
see you.