The other day, I suddenly became interested in building a virtual environment.ParallelsI tried to create a virtual environment using.
Just after "Windows 11" was announced, I was like, "Oh, what's the new 11?"
The desktop image with the default settings has a graphical blue flower, and the menu icon is also displayed as a bar at the bottom, so I felt that it was a little Mac-like.
However, the trial version felt good, so when I signed up for a formal subscription, the menu icon did not respond ... Chrome did not open ...
After a little research, it seems that there are multiple people in the same situation, and from the perspective of experts, it was a drop-off point waiting for the bug to be resolved on the Parallels side. It's a little disappointing, but I've signed a contract, so I'll wait for a while ...
Then, this time as well, I'm going to talk about SEO last month.
What is written on this page
The November 2021 Core Update has ended
Probably the last core update of the year is over.
Looking at the Twitter timeline,There is less fuss as usualWith the impression that "Oh, there was an update", it seems that there are few replies that are as rough as usual in the reply column of the rollout.
What was the impact of this core update?
Is this update less influential? Will EAT continue to be important?
My favorite SEJ (Search Engine Journal) But it is summarized about this update with the opinions of several experts.
▼ Reference
Google November Core Update Is Over – What Happened?
I don't think it had a big impact, but I feel that the information about EAT is emphasized.
I have the impression that the latest Google has given a strict evaluation to the quality of EAT and the site.
What should I be aware of after the update?
I feel that I don't need to be aware of anything just because there is an update every time, but if there is any adverse effect, check the content difference and keyword difference of the site displayed at the top. You need to work to improve the site you are in charge of.
Many people in charge and experts are also involved in this area, but "It is important to always follow the information and situation of SEO, and always make small improvements and plan measures, not the consciousness of "doing something because there was an update".is.
If you're forced, SEOs should always be on the lookout for John Mueller's remarks ...
What I felt
As for the feeling of skin measuring various sites, I do not feel a big change at present.
Also, I had an interesting question at Mr. Kanaya's Google Policy Office Hour the other day.
Q "Are there any changes / additions to the industries belonging to YMYL?
Under the corona situation, travel, gourmet, restaurants, etc. are not described in the guidelines, but they may belong to YMYL. "
A "Although the guidelines are open to the public, it was an interesting opinion although it was not suitable to answer the question, so I shared it with the person in charge."
is what they said.
This exchange is very interesting, and it is necessary to check the trends of travel sites and gourmet media in the future.
Maybe the update has a positive impact on the site?
Do bold letters affect SEO?
When creating blog or article content, important points and text may be shown in bold. However, is it a ranking factor if it is expressed in bold letters in an easy-to-understand manner?
So, at the SEO office hour held on November 12, an interesting theme, "Does bold letters affect SEO?" Was raised, so I would like to summarize the story.
Google crawlers look for bold or italic text to understand what's important on that page.
John Mueller
Bold text can add value to the page as it is related to SEO.

Google crawlers look for bold or italic text to understand what's important on that page.

Google usually understands what's important on its own, but bold text makes the message clearer.
Said. It makes it clear that the value of the bold text is related to the rest of the content on the page.
Some bold snippets can send a powerful signal to Google..However, if you make all the text on the page bold, it's totally worthless...
Finally, Mueller concludes with these words.
So if you want to simplify the answer to a single word, it helps SEO to make important points in the paragraph bold. that's right. Helps you better understand the paragraph or its page.
When used well, it may have a positive effect.
John Mueller answers questions for SEO beginners
There was a scene where John Mueller answered a simple question about SEO.
I will explain it with an excerpt.
Is there anything wrong with blocking the CSS file using robots.txtwo?
Problems may occur. It is better not to block. Being able to view it in perfect condition will help you understand the page better and make sure it's mobile friendly.
Is there an explanation that explains the procedure for updating the site map in an easy-to-understand manner?
Unfortunately, there is no easy way to use it for all types of sites.

But most CMS and site management services come with a simple sitemap feature. Look for information about sitemap settings in the help documentation for your CMS or service, or look for documentation for sitemap creation plugins. In most cases, all you have to do is turn on the setting.
Can I reset the information on indexed websites?
Unfortunately, you can't reset the index, but the good news is. When you change sites, search engines automatically retrieve new content and delete old content over time.

You can also use redirects from old URLs to new URLs to facilitate this process.
Googlebot crawls RSS feeds very often, is there a problem?
No, it doesn't matter. Google balances how it crawls across the site.

Because we know the importance of the page, we get URLs that crawl more often. You don't have to remove the link tag that references an RSS feed from the head section of your page just because you crawl RSS feeds a lot.
SEO beginners should check it out, as John Mueller will answer these simple questions on a regular basis.
Was the concept of core web vitals a failure?
I was fascinated by the article citations with very interesting titles.
▼ Original
Are We There Yet? The State of the Web & Core Web Vitals [Part 1]
▼ Web bearer quotes in Japanese in an easy-to-understand manner.
I think Google's introduction of core web vitals was a failure-the current state of the web and CWV [Part 1]
First of all, as a premise, I learned a lot about the concept of core web vitals at the same time as I deepened my knowledge about the web. From the behavior of the website, I felt a lot of mechanism, difficulty and fun.
There may be a person in charge who just throws the instructions to the production side and says "Thank you for the rest." (There are resources and various situations, so I'm not going to hurt them.)
However, there are many things I can sympathize with in this article, which made me feel complicated, so I wanted you to take it up and read it. I will explain a little about the contents.
Below is a quote from the text of Mr. Web
What is the content of the article?
Core Web VitalsWhat was wrong with (Core Web Vital)

What is the current situation of usbut also,

Why you still need to worry about Core Web Vitalsthink of.

The data up to this point are also shown. These data show the number of sites that have reached the minimum CWV standard, both current and initially scheduled to start.
And the sentence begins.
Why is it called failure?
Underlying this is the delay in introduction. Google's move on Core Web Vitals was as follows:
-Google initially (as of May 2020) vaguely said that the update would be "implemented in 2021."

・ After that, in November 2020, Google stated that it would be implemented in May 2021. The overall lead time was unusually long, but up to this point it was going well.

・ I was surprised to announce that the update will be postponed to June in April 2021.

-Then in June, Google started updating "over a very long time."

-And at the beginning of September 2021, about 16 months after the first announcement, it was announced that the update was finally completed.

So why am I addressing this issue? It's a delay in adoption (and Google repeated in the processExplanationWhenContradiction), But I think it suggests that Google's response didn't go very well this time.

Google described Core Web Vitals with the following implications:

This is a determinant of the search ranking. So you should improve the performance of your website.

But for whatever reason, we wouldn't have moved to improve, and Google's data was confusing anyway, so the company called the importance of the update.Tie breaker(Criteria used when all other conditions are the same) I had no choice but to drop to the level.

This is confusing and confusing for businesses and brands, and is a distraction from the comprehensive message that "whatever happens, you should work to improve your site's performance."

John MuellerSaysSo, "Google wants to keep searching convenient after all." This is the underlying bluff of Google's pre-announced updates. Google can't make changes that prevent websites that people expect to appear in search results.
in the end,Although it made a lot of noise before the introduction, it is currently treated as a bad measure of cost performance.I feel that.
The improvement around the display speed is an image like "measures for sites of the same level to push their backs at the end".
It is also a fact that the environment is improving without permission, such as WordPress side and browser side trying lazy loading of images by default without suddenly getting caught up in big fluctuations even if nothing is done. is.
From the point of view of the person who worked hard, it seems that there is no big benefit for the risk, and in the end it will be handled by default. (Since there are many places to touch the coding elements in the correspondence around the display speed, if you do not understand it or if you make a slight mistake in the operation, you tend to destroy the site ...)
What's more, with a few updates after that, there is also a pursuit that the standard will become loose (the standard of the index will change, and even if you do nothing, the effect will go in a good direction).
Summary of this story
For more details, please read the original text, reports on CrUX, etc. are also complaining based on the data, but there are many elements that can be convinced.
And since this story has been repeated three times, I would like to wait for the second and third bullets to come out.
However, as I say many times, for those who like the Web, I feel that it is a good opportunity to deepen their understanding of site display and behavior. I would like to deepen my understanding.
Also, as John Mueller says, quality content is evaluated throughout the site, so I feel it's best to keep up with display speed.
CTR survey results announced
seoClarityPublished a research study on 750 billion impressions and over 30 billion clicks.
This survey will be the largest CTR survey ever. Extensive research provides multiple insights into the click-through rate behavior of Google Search that may be useful in today's online marketing strategies.
Click-through rate by country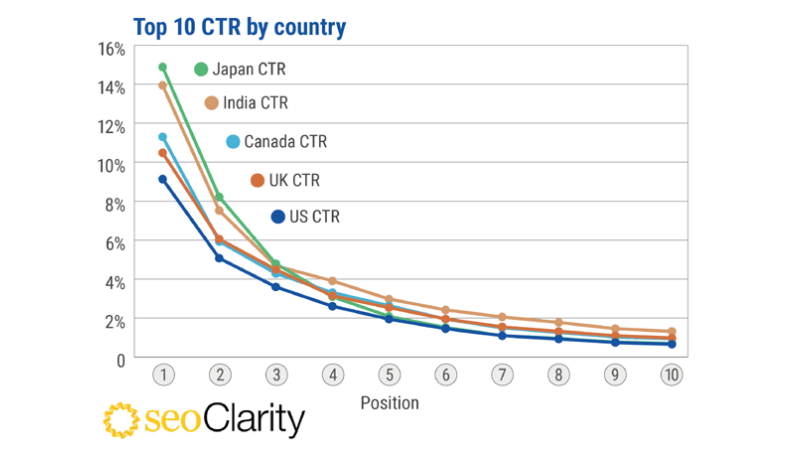 To summarize the contents briefly,
Compared to the previous survey (2014)CTR drops significantly
The CTR ranked first in the search results is 8.17% for PC search, but 6.47% for mobile search (total including those other than the five major countries).
Search users are more than beforeTendency to scroll--- In all the countries surveyed, CTRs ranked 17th to 20th were higher than CTRs ranked 11th to 16th.
Mobile search users tend not to click on higher results than PC search users
The organic search result is estimated to be 65% without clicking on the first or second page.
May and December had the lowest CTR and July and September had the highest CTR.
Mobile search results had 85.8% more impressions than PC search results
CTR by ranking varies greatly depending on the type of industry. The top 10 average CTR was highest in real estate (2.45%) and lowest in apparel / fashion (1.43%).
In Japan, the CTR ranked first is 13.94%, which is the second highest after India among the five countries. However, compared to India, the CTR declines more slowly as the ranking goes down (even at lower rankings, the CTR is higher than India). The 17th CTR was the highest of the five countries.

Of the five countries, Japan can be said to generate the most search traffic in the top 10 CTRs overall (total CTRs in the top 10 are 42.06%). By the end of the second page, users of 61.471 TP1T have clicked on some result. Japan's Top 20 results generate 83.61 TP1T more search traffic than the United States.
is what they said.
(Refer to some data Web bearers)
Is Google so strict that it isn't indexed?
As I mentioned in the last summary article, I feel that Google is very strict about content these days. In addition, questions and opinions such as "not indexed" are being exchanged.
John Mueller said:
Right now, we don't realize that something is broken in the way Google indexes content. However, I do feel that it is extraordinarily strict about what to choose for the index.
It states.
▼ Please see the past articles for the quality of the content.
[November 2021 latest version] Summary of SEO news trends held in October | Cocorograph Inc.
This time, I collected information such as "What is the high quality content defined by Google?" And "Does author information affect ranking factors?"
summary
As with the display speed, I feel that SEO is becoming a mixed martial art every year. I would like to deepen my knowledge about the Web every day and keep in mind flexible policy planning and response.
I hope this article will be of some help to you.
If you have any questions after reading the article, feel free to Twitter (@kaznak_com) Etc., please ask.
see you.