In the last few days, it has been said that Google has changed the way software 404s are detected.
This is a topic that has been taken up by many overseas SEO media, but what exactly has changed?
What is written on this page
What is a soft 404 error in the first place?
A soft 404 error is a phenomenon in which the status code returns 200 even though the page does not originally exist.
Details have also been introduced in past articles.
What are the changes this time?
As for the changes this time, the software 404 error is now detected separately for the mobile site and the PC site.
It seems that this update was done to prevent users from being sent to non-functional pages due to the device they are using.
I found that there are systems that try to recognize soft 404s separately for desktop and mobile. Basically what happens is that this is a soft 404 on your desktop and you don't need to index it, especially since you may see a page that looks like a 404 page on your desktop. It also looks like a regular page on mobile, so you actually index it there.

Now you can search on your desktop or mobile and run a site query with a URL colon to see the difference between the indexers. The site will display successfully on one device type and the other device type running the site. If you run the query and it doesn't show up at all, it's a sign that the device type was somehow acquired by the system and this is a soft 404 page.

And the tricky thing here ... On the other hand, this is pretty new and I was a little surprised that we did this. On the other hand, the search console shows the soft 404, but the mobile version shows it. So if everything is fine with the mobile version, the search console will look like it's being indexed normally. However, on the desktop, it cannot be viewed directly in the search console.

So it's probably like something new that started about a month ago, and there's no exact time frame.

Please send an example of where this is displayed to Google so that Google can improve the soft 404 classification.

https://youtu.be/P_XYLwDTBKo
As a general premise, Google uses machine learning to detect soft 404 errors. This rollout is a measure to improve its accuracy.
And as mentioned above, let's say you have a page called A.
"When I crawled the PC site, the A page was considered a non-existent page and I didn't index it." However, "When I crawled the mobile page, I could see the A page as a page, so this Create an index in stages. 』\
It's like that. I don't think this case happens very often in the first place, so it's difficult to compare ...
Mobile pages are detected by the Google Search Console
To make things even more complicated, the familiar error "The URL sent seems to be a soft 404 error" detected as coverage by the search console isMobile pageSeems to be applicable.
The soft 404 error that occurs on the page for PC cannot be found in the coverage report.
How to know software 404 error for PC?
Even if you know the page for mobile, is the PC version okay? How can I find out? It will be.
Therefore, let's use this site called "HTTP Web-Sniffer".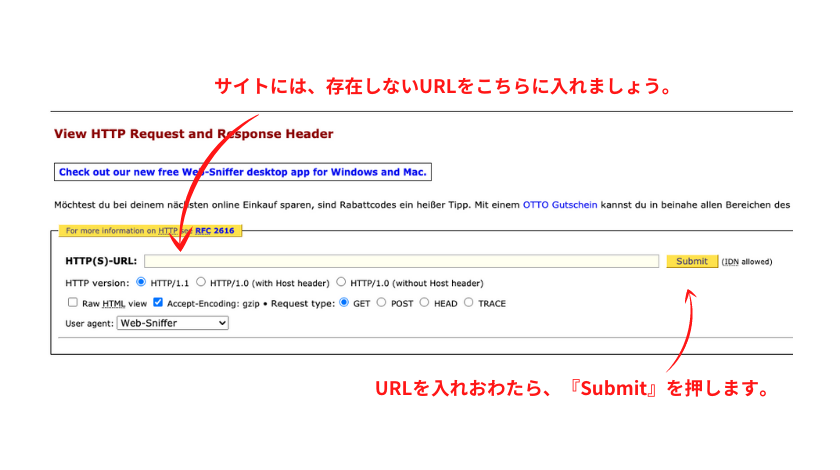 It's simple to use, and pick up URLs that don't exist on your site in advance.
Enter the URL as shown in the image and press the "Submit" button.
Then, the result will be returned, so check it.
If the status code is 404, there is no problem, but if 200 status code is returned here, it is a soft 404 error.
summary
It was a difficult story because the content was a little technical, or it was not a common event.
The software 404 itself is not necessarily bad on the site side, and it seems that Google has been receiving reports and reports on the software 404 for some time.
In the future, I hope that it will detect coverage errors more critically and receive simple correction instructions.
I hope this article will be of some help to you.
If you have any questions after reading the article, feel free to Twitter (@kaznak_com) Etc., please ask.
see you.